OKRs: Becoming Agile
The OKR Approach
Objectives and Key Results (OKRs) is an approach that informs everyone in the organization where they should concentrate their efforts and directs the company to the common goal as a whole. In fact, it's a simple way to ensure that everyone is striving for the same result and that all operations are related to the company's goals.
In the early years of Google, John Doerr introduced the idea of using OKRs, an organizational system for goal-setting, to the company. He recognized the OKR approach as an effective way of identifying both high-level objectives and the clearly defined stages in which these objectives are to be achieved.
OKR is a way of business that every company can use, regardless of its size. It is beneficial and has been heavily used by companies like Intel, Google, LinkedIn, and ING Bank, it is helpful to the startups and small companies as well as to the giant enterprises.
The OKR approach is an effective way to identify targets and communicate within a company, and to transform company, team and personal goals into measurable results. This system is a driving force that keeps both the company and the employees within the determined common goal.
This is an approach that brings concrete results in many respects, because it provides both the company and the employees with the motivation to achieve their goals, and the opportunity to follow the progress they have made with measurable results.
In fact, OKRs identify strategies and objectives for organizations and teams for a specific timeframe. And at the end of this time period, the OKRs provide a reference to see how well the work is being done in achieving the targets.
"Not everything that can be counted counts, and not everything that counts can be counted."
- John Doerr
OKR, a popular approach to objective management, provides a framework for companies to achieve their strategies, improves their focus, provides transparency and encourages and organizes company employees to achieve their common goals.
How do OKRs work?
The OKR methodology includes rules to help company employees prioritize, focus, and measure the results of their work. Thus, the OKR approach helps companies to communicate their strategies in an actionable and measurable way. Likewise, it allows companies to move from an output-based approach to a result-oriented approach.
An OKR, as its name implies, is comprised of Objectives that define the goal to be fulfilled, with each Objective containing up to 5 Key Results that measure the process in achieving the Objective. Each OKR also includes Initiatives - the work that needs to be done to progress on Key Results.
One of the most important points to consider is that objectives should be measurable, focused and meaningful. 4 to 6 key results should be planned for each individual objective within a quarter, but it is possible to set OKRs on a weekly, monthly or yearly basis. Each target is recorded as a percentage, number or currency of how much is achieved.
Unlike the old KPI methods, OKR allows everyone to see how everyone works, letting employees share their comments and appreciation of each other's work through the same platform. I think sharing motivation here is due to our sharing habits on social media, which brings a social element to the workplace.
With OKR, leaders in the company can see their teams moving towards important goals, while employees also know exactly what they expect. And as a result, the happiness and efficiency of working in clear goal-oriented environments bring success.
Stretch Goals
Creating stretch goals are a crucial part. It is so important that Google's Ten things we know to be true states them directly:
We set ourselves goals we know we can't reach yet, because we know that by stretching to meet them, we can get further than we expected.
How do you know a goal is ambitious enough? What is a stretch goal?
Stretch goals should:
Should make you feel somewhat uncomfortable;
Get you out of your comfort zone;
Make you pursue results that you think you can't reach;
Make you accomplish things you couldn't do before;
Be competitive and not easy to achieve but not as hard as to discourage (demotivate) you.
Stretch goals make the team reevaluate the way they work and achieve the greatest results possible. After using stretch goals, even though you may not be able to achieve the goals, you will be able to reach further. Now, you will reach goals that you couldn't reach before.
When used this way, OKRs can facilitate for the teams to focus on the bigger bets and achieve more than the team thought was possible, even if they don't fully attain the stated goal.
Objectives
Every effort is made in accordance with an objective. The purpose of determining an objective is to reveal what is expected to be done after a certain period of time or to set a clear course to achieve this objective.
Choosing the right objectives is one of the hardest steps and requires a lot of effort to think and do what is good. For this very reason, it is important to determine an objective that can be defined as success when it is achieved and not easy to do.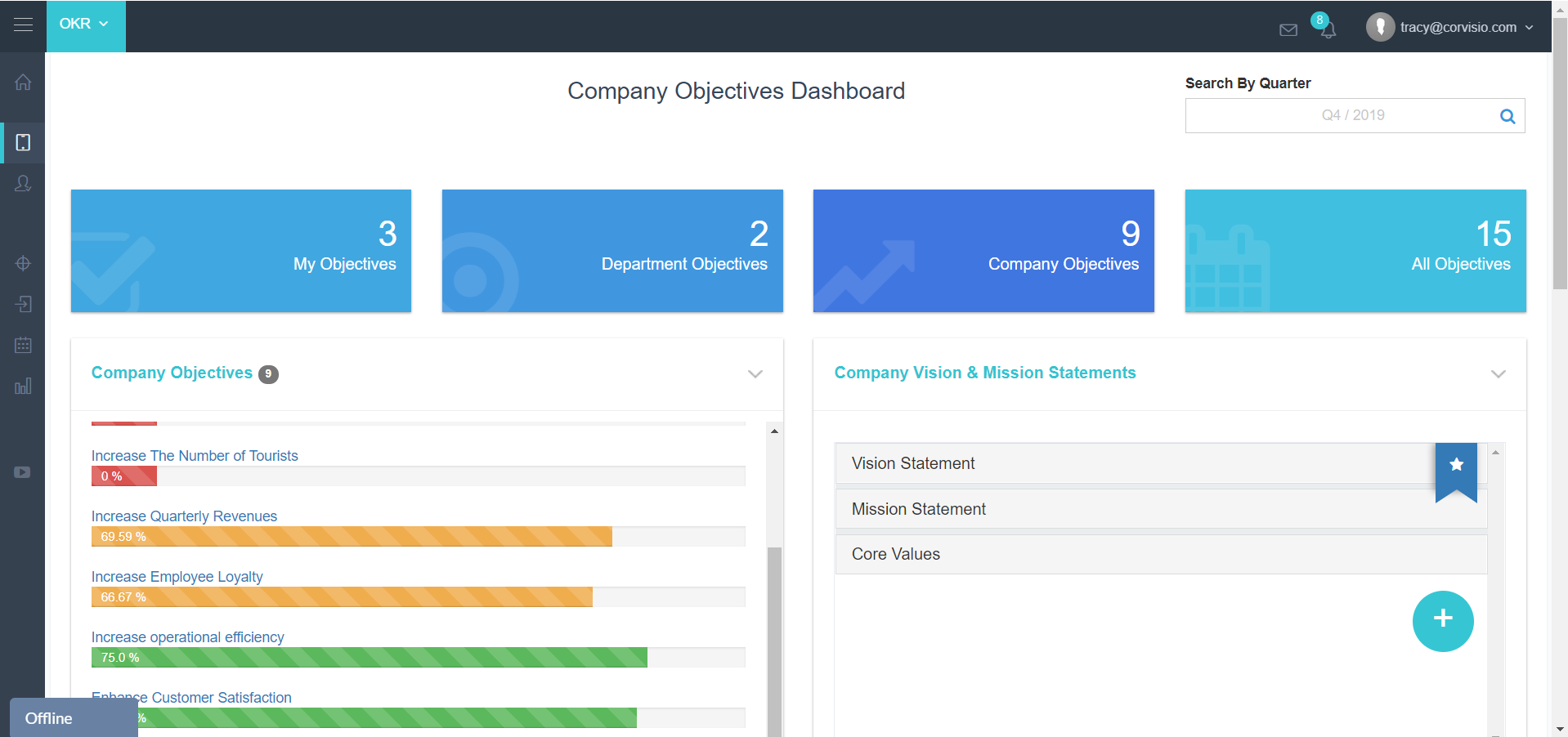 The answer to the question "Where do we go?" determines our objective. This answer should give a clear direction.
For example, Objectives can be defined as follows:
Increase the gross profit of the last quarter
Provide an impactful customer experience
Key Results
 In cases in which the objectives are correctly established, Key Results emerge as a weapon of using the OKR approach. Key results are numerical expressions used to achieve goals and to assess progress in this process.
Numerically defined expectations reveal measured and scored results.
The important component here is measurable success. As general statements about progress and development are subjective, they are not successful enough in explaining the efforts needed to achieve the objective because immeasurable objectives prevent us from using our capacity sufficiently.
The answer to the question "How do we know that we have arrived there?" refers to the Key Results. We can think of it as a GPS device that draws the route to the destination and allows us to see the current position at the same time. Key Results indicate how close the target is.
An example of Key Results would be:
Receive $1 million worth of new reservations
Get 200,000 new users
What will the OKR approach bring to your work?
After talking about what the OKR approach is, we can come to determine the benefits of the OKR approach and the reasons behind the company's determination of using this approach based on Google, which comes to mind when talking about the OKR.
OKR's main purpose is to unite the team around measurable results, enabling the company, its internal teams and individuals to move together in the right direction. The biggest advantage of OKR is that each individual knows very well what is expected of him / her in line with the company's goals. Again, everyone can keep track of what others are interested in and what task they are focusing on. This awesome methodology is actually a roadmap that can be pursued with a goal-oriented approach.
In order to ensure measurability in the OKR approach, it is also intended that employees identify their own OKRs and share them. Karl Sun, who has worked as a manager for a long time at Google, says that all OKRs in Google are clearly visible in a common area within the company. Likewise, each employee shares his / her own OKRs in this common area.
And if we list what OKR will bring to the company and to the team:
Transparency – OKRs should be visible to everyone so that the people are aware of what others are working on.
Alignment – Similarly, OKRs make sure that all employees in the company align their work, move in the same direction and reach a common goal.
Focus – OKR helps the employees focus on the tasks that have the most impact on the business. There needs to be a high impact on company goals after you achieve the objectives, otherwise, the objectives are too easy to achieve.
OKR helps the employees to focus their attention on the most important tasks for the time, letting them prioritize these tasks to bring the highest positive impact on the company.
Engagement – People strive to achieve outstanding results when they engage in the process with a purpose. Use a wording for your Objectives and Key Results that everyone will understand. As a result, you can communicate your goals to everyone in the company and receive deeper engagement.
Everything considered I can't think of a reason that would set you back from implementing OKR Management for your business. You may create your own OKR Spreadsheets effortlessly using MS Excel, or you might prefer to use a cloud-based OKR Software provided by many companies now such as Corvisio.